Maintenance
Reach Maintenance section tapping the Maintenance icon in the bottom bar.
This page shows all the available info about the maintenance of the bike.

1. Technical manual
Tap here to see the Technical data of your bike
(if available for the bike model).
2. Services list
(if available for the bike model).
3. Upcoming & Past Services
(if available for the bike model or if manually added).
4. Service
Tap on the service to check due activities list.
Tap on the Check button to set the Service as Done.
Low Battery notification
Service details
A detailed view of any service (upcoming & past) is available tapping on the service card or the service name in the Service List.
Any activity to be performed in that specific service is displayed in this page.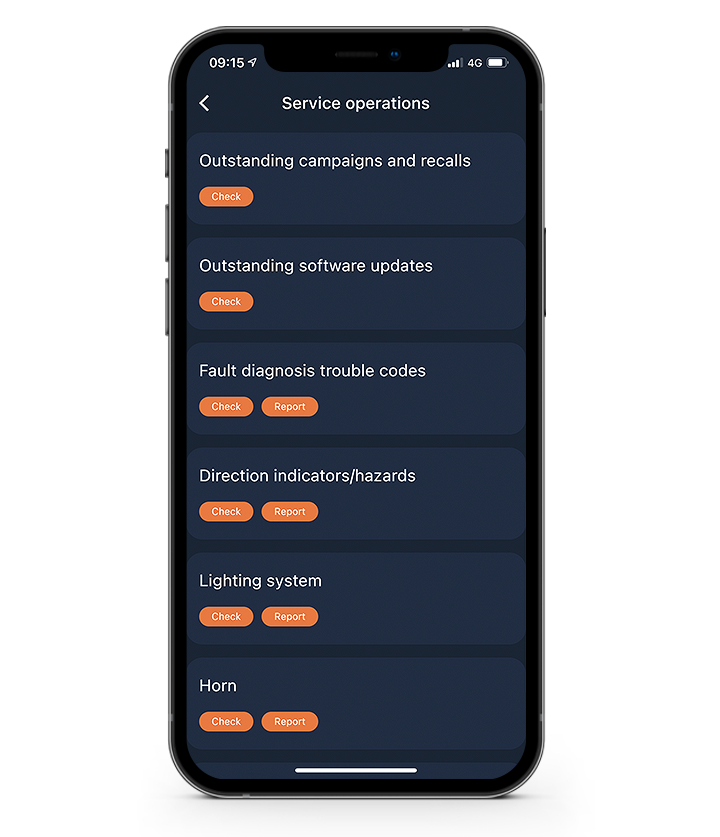 Deadlines for the bike (set in the Bike card in Garage) will be shown in the Upcoming & Past Services list among the services, and will be notified before their deadline.
Upcoming Service notification
Manual insertion of next services

When available, tap on the Manual insertion icon to manually add a new service, for example to save unplanned maintenance interventions for your future reference.
You will be asked to insert a service name, a due date (and/or mileage and months) and if the service is recurring or not. Any service added manually will be shown in the Upcoming & Past Services list in Maintenance page, and it will automatically notified according to actual mileage/date.


You can use this option to manually insert the bike service schedule only when Service info are not available for your bike model.
Check the technical data of the bike